October 21, 2015, during President Xi Jinping visited the United Kingdom, the world's first zero-emission BYD-made electric double-decker bus in the United Kingdom Lancaster London Palace debut, BYD Group President Wang Xi Jinping, accompanied by the Chairman, Prince William and Kate Princess boarded a double-decker bus that pure electric to visit, BYD also signed a 660 million pounds of cooperation agreements with British bus manufacturer Alexander Dennis, it should be said that this visit with the Chairman, Wang and his BYD very profitable .
However, in the domestic market, this house is located in Shenzhen in China's domestic auto manufacturers have a strong human heart has been the topic of sex, some people love it was madly in love, it was also dismissive of it, and still others mention it will cynicism. Whenever news about BYD appears, it will inevitably lead to a debate. Today, many people, including us understand the background of the BYD still only stay in cell phone batteries, Buffett's investment as well as on its head Wang some personal Anecdotal. Thus, after BYD won the British project soon, we have prepared for this trip to Shenzhen, hope you can understand this business from another angle.
● "Battery king" involved in the automotive industry
- BYD repairer Why?
Before entering the car market, so the battery started BYD does not have any relevant experience. Since 1995 to get the first investment in 2002, BYD spent seven years in the battery field has been done the first, the world's second position, but also through the capital, successfully listed in Hong Kong and received large sums financing. In the eyes of the outside, this company has been successful enough, while the car looks its battery business does not seem too much intersection.
When the battery field, BYD's growing, ranking first in the industry Sanyo are also beginning to pay attention to the opponent from Shenzhen, China, and the gradual transformation, further narrowing the gap between the production cost and BYD; and because the battery industry The threshold is not high, the domestic horse in that period hundreds of large and small battery business, they are relying on low-cost access to copy BYD successful way; more importantly, because the prices of electronic products every year fall, profits are gradually falling battery industry. Thus, although the parties are optimistic about BYD, but internal and external problems facing a competitive environment, but also will encounter a bottleneck in battery manufacturing industry.
At this time node, Wang did see the hidden future development of enterprises, and therefore are thinking about how to expand the business areas of the enterprise. Mobile certainly can not do, because we can not compete and downstream customers; appliances can not do, because the competition is so intense; real estate can not do, because the threshold is too low, no matter who, as long as money can enter. Wang hopes to find a higher threshold, players less, less competitive and market potential and living space are larger areas. After some screening, Wang's auto industry best meet the requirements.
2 How to achieve "cross-border" repairer?
- How to achieve the "cross" repairer?
Just entered the early 21st century, China's auto market value purchasing power of the "blowout", the 2000 Shanghai GM Buick launched a 10 million joint venture sedan Sail, 2002 Shanghai Volkswagen launched sync with the international POLO, these models are strongly stimulate domestic demand to buy family car. Soon, China will become the largest body widely recognized and most promising auto market, whether international or domestic private capital auto giants, in the face of such a huge "cake", they all began gearing up to try.
Headquartered in Xi'an, Shaanxi Province Qinchuan car company is the only one with car production enterprises qualified country in the northwest region was approved by the Shaanxi provincial government and the China North Industries Corporation, a joint venture, both state-owned enterprises, but also a military enterprise. After 2000, as the "four Alto," one of the year Qinchuan Motors launched a self-developed car flyer and achieved good sales. However, because of its background reasons, can not bring good sales and profit for the Qinchuan cars, 2002, Qin Chuan began to fall into financial difficulties, we can not continue to rely on its own strength in the market foothold and began to seek external cooperation.
Qinchuan earliest interest is the first private car prices - Li and his auspicious. However, Geely only for Qinchuan "birth certificate" are interested in, do not want to invest large sums of money reorganization Qinchuan car, so take the initiative to retreat. Mr. Li was gone, Qinchuan ushered Brilliance Group, but eventually dropped.
Two powerful buyers exit, BYD is a rare opportunity. More importantly, when the Qin Chuan already have more advanced technology vehicle four production lines, including Spain and France Georgia (FAGOR) to provide press lines, Japan Ogihara company's stamping and welding production lines, Germany Toure ( DURR) manufactured by coating production lines and Viva Japan (BENZAI) company vehicle testing line. However, compared to the technical conditions, Wang Qin Chuan valued more people reflected in the research and development capabilities flyer project. Thus, although the face of pressure from various aspects, Wang Qin Chuan remains determined to acquire.
Although at the time of Wang and BYD wealthy, while Qin Chuan also really need the money, but people do not just want Qinchuan "selling shell" in exchange for a sum of money only, they are more stress is placed on the acquisition of Qinchuan and Northwest the development of the automotive industry, BYD have to come up with enough sincerity and strength of the show in order to impress people Qin Chuan.
3 hidden secrets "plagiarism" behind the
● BYD design development process
- F3: "plagiarism" behind the hidden secrets
Despite being outside world it has been look bad, but still become after BYD, Geely, the country's second private car prices. In 2003--2004 years later, Oaks, Amoi, Bird and other repairer of "outsider" sees attractive business opportunities in China's auto market, have crossed the border into automobile manufacturing. To outsiders, the production battery started to rely on the acquisition of Qinchuan car production qualification obtained BYD, said those companies do not make any difference, but in the enterprise, has set up a series of R & D department, really put on a repairer posture.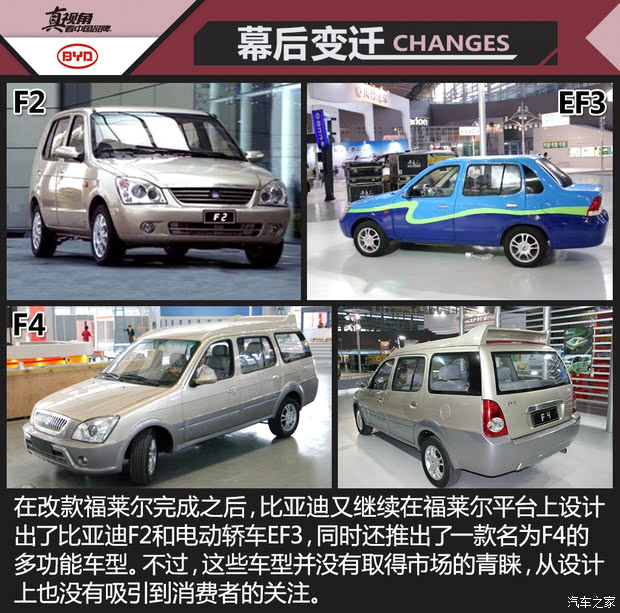 Today's senior vice president of BYD Auto sales company, the vice president of BYD Co., Ltd., the automobile industry group chief engineer, and served as Shenzhen BYD Daimler New Technology Co., Ltd. Director and Chief Executive Officer, Mr. Lian Yu Bo, BYD acquired early After Qin Chuan, Wang mastered the core technology because they were impressed with the idea, then resigned from his original position and helped BYD set up a research and development center, and served as the head of which the design center.
If counting from the time established BYD design center is regarded as one of the domestic car companies design agency established earlier. Lian Yu Bo from his founder TJI automotive design company to bring out a number of key designers came to BYD, vehicles engaged in the design and development work. However, compared to the fledgling domestic auto industry, the domestic automotive design capabilities Similarly seem immature, domestic designers often lack experience, so early BYD design center works not successful.
Since before the launch of the product was not successful, so Wang decided to adopt the "reverse development" approach, which is Xianxiang markets mature and learn from successful product, but this step BYD go very extreme, F3 models straight "reverse" Toyota Corolla, just some details, such as the distinction between the front and rear lamps with the Corolla, but also from time taillights Fit sedan. After listing F3, BYD developed for a very low price, consumers can use a small car price to buy directly into one exactly like the Toyota Corolla compact car, so the market feedback is excellent.
Looking back, BYD F3 is still a successful product, because it's early achievements of primitive accumulation BYD, BYD brand but it also caused a lot of damage. Today, Lian Yu Bo does not mince words on this: "Despite good sales of F3, but I do not think it is a good work for the design of reference, we also recognize.." Lian Yu Chen Potain in When just entering the automotive industry, BYD internal and down is not a good consumer demand were to control, in other words, when BYD did not know what kind of car can be welcomed.
4 independent design advances
- Independent design advances
Another reason for the early development can not be independent technical and technological level of backwardness, which is reflected in the design and development of backward technology and production processes in two ways. In the design, the software design center BYD to use on the body surface can not even accurately modeling and simulation, and therefore a lot more creative designers are not well reflected; and the production process, especially in terms of stamping and welding It can not be the designer produced a relatively radical idea.
In the early days, when designers and engineering teams happen "conflict", the company will be more requires designers to make compromises, after all the objective conditions are too difficult to meet the complex design needs. However, with the upgrading of the manufacturing process of the body, especially BYD gradually we mastered the design and manufacture of body mold after, Lian Yu Bo encouraged his designers to stick to their point of view: "Now the technology has mold, stamping and welding up a level We need to allow designers to promote progress through the design process - when the project team finally realized that challenging design, is a technology upgrade "
At present, BYD headquarters in Shenzhen already has more than 120 designers, in the future will still be BYD design center, and there is no plan to establish large design institutions overseas. In the design team building, Lian Yu Bo said BYD will adhere to develop their own design talent: "In fact, after I took with the Czech Republic from the designer came to BYD, we have no external or 'dig' someone else's design division, we always believe that our own culture is the designer can do a good job. "
- Wang has "veto power"?
Lim chat with total design, we thought of a great interest, but the problem is a lot of people are very concerned about: As president of BYD, Wang whether it will participate in the new car design decisions? Whether he designs have veto power? In fact, many OEMs and development of new models when taken in a similar way, BYD design center after receiving the new models of design tasks, each design team will be required to submit its program and internal bid will be selected after a design center a few (usually three) candidates submitted to the company's executives, department heads and dealer sales representatives for final review, to select the final winning engineering development program.
When several programs submitted for final review, Wang will attend and express their views, even have full decision-making powers, in Lian Yu Bo opinion, this is actually quite normal: "The car is very important to the appearance of the interior design would affect a car's sales, Wang as a corporate leaders, responsible for the sales of products, and leadership responsibility, whether designer or design centers are not undertaken. "However, he also admitted that, with the with more and more time working between Design Center and Wang also more and more understanding, and therefore there have been no cases in recent years almost works were rejected.
5 do not have the "heart" of the car prices
● powertrain changes
- Do not have the "heart" of the car prices
Although BYD F3 With initial appearance resembles the Toyota Corolla and low price to win the low-end users of all ages, but until 2008, BYD has been in use procurement to the engine and transmission products. Because of this, BYD has also been a lot of people derided as "no heart car prices." By the end of 2007, has been responsible for Zhang Jintao ordered battery production equipment manufacturers began to turn caught powertrain research and development.
Zhang Jintao introduced, though it was represented to F3 BYD continued selling models, but the engine of the vehicle has been east Ann Mitsubishi purchase. Even though not completely a seller's market, but because of a number of East 安向国 within enterprise supply engine products, so sellers have more initiative in the trading session. According to Zhang Jintao recalled, in those years, the end of each Wang Dongan need to personally go there to visit, "Events, under the exchange feelings", to ensure the second year you can get the required supply.
"From the beginning of 2008, after three years, we are in the first stage of powertrain research and development, you first need to solve is the BYD powertrain 'there is no' issue." In order to first resolve "There is no" problem, Zhang Jintao seventeenth division responsible for BYD to start from the beginning with a naturally aspirated engine and manual gearbox. Eventually, they spent three years, basically completed a series of four-cylinder naturally aspirated engine and manual gearbox developed different displacement, but also completed the basic layout of the engine and transmission production equipment and production lines. With own production of powertrain, vehicle manufacturer BYD outsourcing is no longer limited by the powertrain.
- TID technology from the public?
When no longer limited powertrain purchased BYD in powertrain research and development into the second stage. At this stage, Zhang Jintao and his development team a target of turbocharged engines and the development of dual-clutch gearbox. When it comes to this stage, Zhang Jintao does not mince words ever making reference to the then existing mature technology platform: "If real development from scratch, it is clearly unrealistic, we certainly learn from some of the other manufacturers of the product at the time We are carrying out their own product development time, on the one hand you want to learn other people's technology, we must also be careful to avoid certain patents to avoid infringement. "
In the beginning of the development of dual-clutch gearbox, taking into account the prevailing mass products covering a wide range, a large number of users, and during that time the user good reputation, so BYD first select the public dry DSG technology platform developed as reverse Reference Model. Early development of other car companies are not optimistic about BYD, Zhang Jintao and his team believe that they simply can not be developed dual-clutch gearbox. But with the increased investment in BYD, when the product is about to come out, BYD's dual-clutch received international car companies and suppliers of "containment."
According to Zhang Jintao recalled that when BYD 6DT25 dry double clutch gearbox for authentication, many suppliers notify BYD, will not provide spare parts supply for this transmission, because some of the traditional client received legal letters allowed They BYD supply. Thus began BYD art research and manufacturing for a number of key components, and ultimately they overcome technical difficulties most dual-clutch gearbox, completed the development of the entire project.
Mastered the direct injection turbocharged engine and dual-clutch transmission technology later, BYD launched the 2.0T engine and three-cylinder 1.2T engine, and can withstand higher torque wet dual-clutch gearbox. In marketing, the BYD new engine and gearbox combination called TID, with turbocharging, direct injection and dual-clutch gearbox as the technical highlights of models, so as to establish its own "technology BYD" image.
6 EV = battery + four wheels?
- "The hair together" exclusion BYD?
In April 2008, under the auspices of the National Development and Reform Commission, including FAW, SAIC, Dongfeng, Chang'an, including 12 domestic automobile enterprises set up jointly by the hair together, we hope to jointly develop model capture DCT core problem. In November, the issue associated with the world's leading suppliers, one of the main providers of dual-clutch module BorgWarner joint venture BorgWarner dual clutch Transmission Company. It is worth noting that, in the member directory hair-linked, and no BYD.
Many concerned friends automotive industry quickly discovered this, and speculation "in the hair together" at the time of the establishment of the internal members of the collective "orphaned" BYD, BYD excluded from the hair together, while BYD alone, eventually Before the hair-linking developed a dual-clutch gearbox, and the first to market. For this period of history, Zhang Jintao recalled that, in fact, at the inception of the Union also made contact with BYD before, but since then has put BYD dual-clutch rafts project development schedule, and progress in the hair linked to slower BYD; Meanwhile, BYD initial cooperation dry double clutch transmission development and Luk, and the hair wet dual-clutch gearbox linking route BorgWarner technology is not the same; in addition, because it is a joint development model, in the final couplet hair the development of targeted products is just a sample basis, each car prices also need models for each power unit and secondary development and matching, BYD believes doing so efficiency is low, can not meet their own needs, so declined in invitations linked.
- EV = battery + four wheels?
Geely founder Li Shufu, the phrase "car is a sofa plus four wheels" of the "famous" widely circulated in the country, but few people know that Wang has also been considered, the electric car is a large battery plus four wheel. This idea, when he plans to get involved in automobile manufacturing is produced. However, not completely solve the traditional powertrain stage, BYD for hybrid exploration is not successful, but after the capture of the TID, plug-in hybrid powertrain to become the main BYD seventeenth Division tackling the project.
F3DM and F6DM dismal and Wang did not dampen the development of plug-in hybrid type of determination, when the second generation have a powertrain technologies, Wang Zhang Jintao requested technical team to join the motor and power system on the basis of TID battery, developed out of strong, low fuel consumption, can travel long distances purely electric generation DM dual-mode hybrid system.
Eventually, after a period of research and development and matching, the results BYD third stage of powertrain development: the second generation of DM dual-mode hybrid system at the end of 2013 officially entered the market, the first model of the system is equipped with BYD Qin. As equipped with the second generation of DM dual-mode system's first product, both pioneered BYD Qin dynasty named using the first of its kind, and because 1.5T direct injection engine and dual-clutch gearbox was added, Qin listed at the beginning becomes a strong Two power as its product publicity, which is distinct from conventional hybrids. After Qin, BYD has launched a dual-mode system with DM-based four-wheel type Biyaditang, and Qin is different, Tang power base in the original system, the parts of the vehicle in the rear axle of a motor increases by This implementation of the electric four-wheel drive, but will also enhance the acceleration Don.
Because of its strength, and the means of boosting national and local environmental policies, BYD Qin and Tang two models has been recognized by domestic consumers, it can be said, as the country for the development of new energy vehicles increasing attention, BYD also quickly found Positioning itself.
To sum up:
In 2003, Wang, deputy general manager when he was in communication with TJI's Lian Yubo, the once spoke: "I intend to make the car the next life!" In fact, from the beginning to make cell phone batteries, Wang and his company have been to master the core technology as a fundamental, constantly enhance the technological content of products, thus a place in the market. After more than ten years of efforts, BYD not only did not fail, as in the automotive industry as it was predicted by many people, but by means of its own unique strengths - battery technology, new energy vehicles has been widely recognized at home and abroad.
However, compared to battery production, automobile manufacturing higher technological content, but also more complex, the success of automotive products also not rely solely on the design and power systems, also we need to have excellent security and adequate convenience and comfort . In the next issue of content, we will bring more of the story behind BYD.
Tweet