In our eyes, "007" series of films in the Bond car not only has a perfect appearance, when I encountered danger Bond, vehicle equipped with a variety of weapons or equipment and so help the hero saved the day, escape out of heaven. The upcoming release of the latest movie "007: Ghost Party", the Daniel Craig plays Bond and from Military Intelligence "borrowed" a new chariot, that is, we are now seeing Aston Martin DB10. As a model specially designed for the film build, DB10 style can be described as very science fiction. Gray's body and sleek body lines actually very consistent with the Bond character set: cold, custodial proud rude.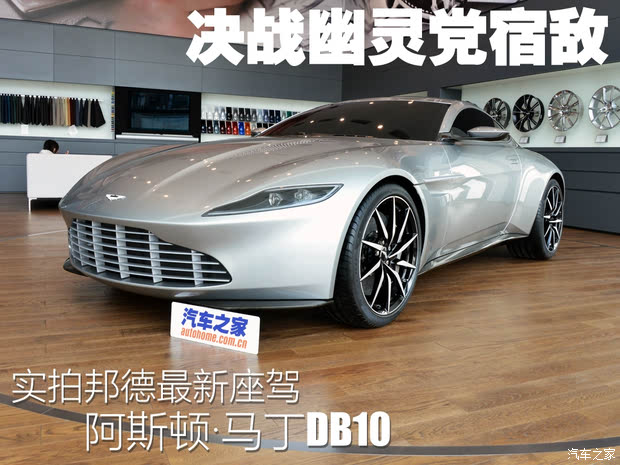 According to reports, in order to shoot the film, DB10 prototype manufactured a total of 10 units, of which eight for filming (which does not rule out there are so few cars have crashed), and another two trolley only for exhibitions task, this we photographed this car is to rally and to create the film 2 of one of the model car.
  All prototypes by Aston Martin's design and engineering teams handmade. DB10 design combines the V8 Vantage and the One-77 design features two cars, people think it looks like a scaled-down version of the One-77. Short front and rear suspension plus smooth fastback style design makes its visual center of gravity moved, sporty rich.
  DB10 is designed to work by the chief creative director Marek Reichman, Aston Martin driven, family grille styling can make people immediately recognize its Aston Martin family lineage. Two carbon fiber spoiler at the bottom of the front bumper also played a role in the diversion of the front bottom of the stream.
Bonnet and the front bumper is integrated can not be opened, nor equipped with power systems under simple mobile exhibition vehicle only through manpower. In the movie, Bond car comes equipped with a 436-horsepower V8 Vantage V8 engine, gearbox Which we do not know as to match.
Headlights and daytime running lights are using LED light source, in line with the popular trend nowadays. Show car headlights can not be lit, if want to see the real car after lighting effect, can only show you the stills.
  Exterior mirrors connection base for the carbon fiber material, and cleverly integrated in the inner A-pillar, I believe this is designed to achieve better aerodynamics.
Hidden door handles on the Aston Martin production models are also equipped so as to drag the body surface to a minimum. Carbon fiber side skirts and side vents at the bottom of the body to enhance the appearance of the sense of movement also played a role.
After the roof near the rear windscreen position designed two convex portions, and also added two openings. Both openings are flame spray holes, designed "pit" hot pursuit vehicle villain in the film.
From the tail to examine the case DB10 also a cold, avant-garde look. Of course, in a formal setting to bring out the handsome Bond is more than enough.
At the bottom of the rear fender of all carbon fiber build, bilateral total of two out of the exhaust system and bottom diffuser structure into one. Elongated tail light source is not configured can not be lit, the movie taillights lit is only two lights.
20 inches color ten-spoke wheels are exclusive DB10 configuration, modeling avant-garde movement.
Tire uses a focus on sports Pirelli P ZERO series tires, front and rear tires are 255/35 ZR20 size and 305/30 ZR20, so as to ensure better protection of the hero being chase or escape when.
Article Summary:
Bond "007" series of films also achieved a mighty Aston Martin brand, radical image, and is designed for "007: Ghost Party" to create DB10 will also become the history of Aston Martin brand to be reckoned with part. This movie currently has official release date in North America, release time in China it has been identified in the November 13. If you are also "007" movie lovers, I think this movement produced by the MGM blockbuster you will not miss.
Tweet