Guangzhou Auto Show was officially opened on November 20, the balance of the new car at the show 80 contests. In these new vehicles, we are still very concerned about our Chinese brand products. Chinese brand in the auto show debut of example Yi Ruize 5, CS15, Qoros 5 SUV, Roewe Vision-R concept car, JAC iEV6S other products, many types of these products actually represent some of the new direction of development of Chinese brands and new results, here we together look at how they have their own characteristics.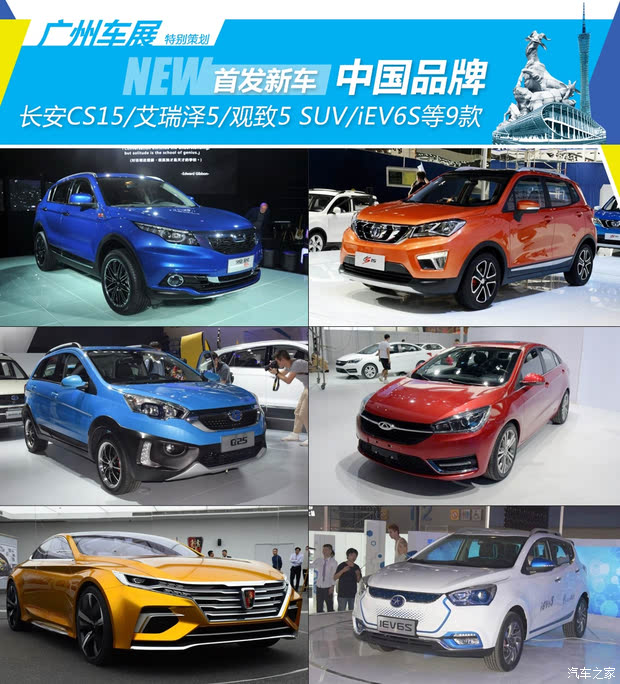 ★ Chery ARRIZO 5
New car features: positioning the compact car; 1.5L + CVT
Estimated time to market: March 2016
Chery's new compact sedan, ARRIZO 5 in Guangzhou Motor Show starting, we can easily see from the name, ARRIZO 5 positioned between ARRIZO ARRIZO3 and ARRIZO7, the new car in 2016 3 listed month.
  Modeling, Chery ARRIZO appearance lasted 5 at the Shanghai Auto Show starting α5 concept car styling, car front face of the hexagonal grille, interior with black grid-like shape, headlights on both sides and grid integration, with the interior lamps with a lens design, very sharp.
  Side view, high waist design a new car, and slightly higher, with a certain sense of movement. The tail, the new car uses a triangular taillights, the overall looks relatively simple. Body size, length and breadth were ARRIZO5 4572/1825 / 1482mm, wheelbase 2670mm, located in the compact car.
 Inside, the car looks relatively simple, the control on both sides of the big screen is the air conditioning vent. From the experience point of view the show, which control the use of hard materials, but the workmanship is good. Configuration, the car can be equipped with skylights, vehicle stability control system, roof external antenna, side curtain airbags, front fog lights, LED daytime running lights, parking radar / imaging and the like.
 Power, ARRIZO5 powered by a 1.5L DVVT engine, maximum output power of 116 horsepower (85kW), transmission or 5-speed manual and CVT matching gearbox.
Prospects: ARRIZO5 Chery fourth paragraph using ARRIZO name products, and in front of several models ARRIZO 7, 3, and Eric M7 ARRIZO ARRIZO brand has grown. But while previously have three products, but can not be said ARRIZO brand is really strong. Because from the sales point of view, ARRIZO July this year from January to September sales of only 18,204, ARRIZO 3 1 - September sales of 15,241, while ARRIZOM7 is the average monthly sales in the hundreds Such performance is still room for improvement, for ARRIZO brand, the future burden or boost sales will fall ARRIZO 5 above.
Currently ARRIZO3 price range is 5.79-7.49 yuan, ARRIZO price range of 7.29-10.45 7 million, we expect the price range ARRIZO5 between 6-9 million. The price range is currently more fierce competition, as the new Imperial, Yi moving Cheung Yuet V7 and so is the price, at the same time as the Jetta, Santana and other joint products are also dropping to the low allocation of space, plus a small SUV continue to emerge, like To achieve a good sales, future requirements to ARRIZO 5 as proposed is very high.
ARRIZO5 from the current product features, we did not see what makes him special place themselves in the edit view, the advantages of Chery products actually reliability of its products, texture and other driving and so on, but these more through word of mouth marketing, future initial listing ARRIZO5 may be at a disadvantage in these areas, how to seize the attention of consumers will be a new challenge for the Chery team raised.
★ Chang'an CS15
New car features: positioning a small SUV; before the new family face; space is good; a personalized custom
Estimated time to market: February 2016
Chang'an CS15 is the latest compact SUV, positioned below the CS35. Its front face of the concept car from the CS95 design style, and currently some differences Changan SUV series, looks more tough and personality. The new car's front bumper design uses a ladder, the bottom as well as silver scuff guard, fog lights area looks great sense of power.
Side view, car overall more compact, the rear styling, new car design is relatively simple, the bottom of the bumper is black, and we see that the car is also equipped with a large skylight. CS15 body size length and breadth were 4100 × 1730 × 1635mm, wheelbase 2510mm.
 Inside, the new car with black interior style, in control, seats, door panels and Dangba etc. using red decorative. Car steering wheel, air-conditioning outlet, etc. also with a silver decoration, the overall look more dynamic, which also uses a barrel-type instrument panel and three-spoke multifunction steering wheel. In addition, the new car will provide a wealth of optional and customized to meet the needs of consumers.
  Configuration, the new car is also equipped with a key to start, more configuration automatic climate control, INCALL2.0, cruise control, etc. Security configuration, such as the Bosch ESP 9.0, daytime running lights, tire pressure monitoring, reverse image, an auxiliary ramp, four airbags and so appear in the car. In addition, it also has a 4/6 split rear seat function.
  Dynamic aspects, CS15 will be powered by a 1.5 liters displacement naturally aspirated engine, maximum power 107 horsepower and peak torque of 145N · m, the drive section provides manual or automatic transmission is optional.
Prospects: CS15 can say is currently used Changan new front design of the first mass-produced products, this new modeling future may become Changan new family design, such as Chang'an CS95 will also use this design. Because of this design is relatively personality, CS15 also for the future introduction of more strategic CS95 gather feedback.
Changan current SUV product sales are good, CS75 1 - September total sales of 145,511, CS35 has reached 142,410, while the introduction of CS15, Changan also want to SUV product line further enriched and stronger, we expect the CS15 Prices will play at around 60,000 yuan. Chang'an CS15 after the launch, the future will be directed at rival JAC Refine S2 (size is 4135 * 1750 * 1550, with a wheelbase of 2490mm). Chang'an CS35 future will JAC Refine S3 competition, CS15 and refine the competition S2, Chang'an and JAC are in the small SUV market layout of two products, also saw the potential of this level of the market.
Face future competition, Changan CS15 will use its good space and personalized design to attract consumers, while personalized customization options believe we can get a lot of consumers, coupled with the SUV market is hot, we expect The car is still good prospects for the future.
● Read more:

Chang'an CS15, etc. 9 show the first Chinese brand cars Prospect(4)
Chang'an CS15, etc. 9 show the first Chinese brand cars Prospect(3)
Chang'an CS15, etc. 9 show the first Chinese brand cars Prospect(2)
Chang'an CS15, etc. 9 show the first Chinese brand cars Prospect(1)
Tweet